A Welcome from the Dean of Theology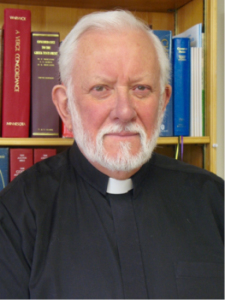 A warm welcome to you all to the Queen's College Website! The College is centred in Christ and filled, so far as human institutions may be filled, with the Holy Spirit. Although we are firmly based in the Anglican tradition, our mission and our outlook is wholly ecumenical. We are happy to provide courses of instruction for both Roman Catholic and Pentecostal students (we have academic programmes in both areas), Lutheran liturgies are celebrated in our chapel, and, at weekends, the chapel is transformed into an Orthodox Church when the priest and congregation of the Mission Station of the Holy Lady of Vladimir (Orthodox Church in America) celebrate the Divine Liturgy. The essential vocation of the College is to respond to Christ's own prayer in John 17:21, that all of us may be one, as Christ and the Father, in the power of the Holy Spirit, are one.
The College offers a wide variety of programmes – both theological and pastoral – designed to deepen students' knowledge, broaden their faith, encourage their questions, challenge their assumptions, enrich their spirituality, and guide them in their spiritual quest. The College is at one with the Venerable Bede, when he defined theology as "the contemplation of God." Nevertheless, the College also recognises the essential need for solid, deep, accurate instruction in the principles of the faith, so that any student, young or old, coming forth from Queen's, may be able to give a reason for the hope that is in them (cf. 1 Pet 3:15).
The College offers courses both on-campus and by distance. The on-campus life of the College is vibrant and enriching, with offices and/or liturgies celebrated daily, and with communal meals and times for fellowship. Queen's offers both uncompromising academic integrity and a vibrant sense of community. The faculty, both full-time and part-time, are eminently well qualified, but – above and beyond their numerous degrees – they can all offer that creative and spiritual guidance, which is essential in any theological college. Most importantly, they appreciate that they can only provide such guidance if they themselves are willing to be life-long students in their own vocations.
The purpose of Queen's is to help evoke in all of us that likeness to the image of God in which we were created, and thereby to send out into the world guides and leaders who are aware not only of the needs of the Church and the world as they are now, but of what the Church and Christ signify for future generations.
To undertake the study of theology, pastoralia, ethics, and spirituality is not for the faint-hearted. It takes courage. But courage is being afraid, and yet going on. Queen's College is happy and privileged to provide, through the breath of the Holy Spirit, guidance and support for those who are brave enough to undertake this mission, and to go forth into a world which is more ready than it thinks it is to receive them. Can we do it? Yes we can! Can we do it YES, we can! CAN WE DO IT? YES WE CAN!
In Christ,
David N. Bell, M.A., D.Phil., F.R.S.C.,
Dean of Theology.